Products
Location:Home >> Products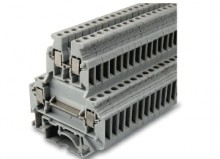 DIN Rail Terminal Block Description:
UL-UK series are gray Din Rail
terminal blocks
, can be installed on various types of 35mm rails. With the clip frame press line mode, the wire is not in direct contact with the screw, not to hurt the wire, and with self-locking feature. The thickness of products are 4.2 mm, 5.2 mm, 6.2 mm, 8.2 mm, etc., corresponding to the applicable wire range 0.14-150 mm2. We can provide double-layer terminal blocks, potential distribution terminal blocks, experimental terminal blocks, fuse terminal blocks and other functional terminal blocks. We provide product assembly service. If you require to identify the symbol type, please with drawings to illustrate. The insulated shell of products are PA materials, which are high temperature and low temperature resistant. The flame retardant grade V0.